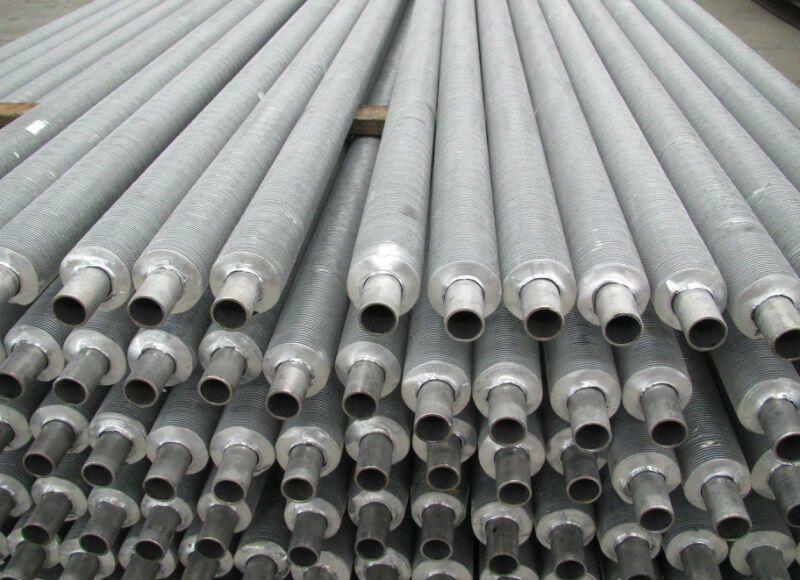 Carbon steel-aluminum composite extruded fin tube, with tube material SA179, SA789, SA214, SA213, SA336
Fin material aluminum, fin thickness 0.25mm~0.8mm, fin pitch 2.3mm~4.5mm, Fin type: Extruded, extruded serrated, any length, used for large air-cooler, heat exchanger, dryer, with high heat transfer and energy conversation.
The parameters and performance are as follows:
1: Technical parameters: The high degree of fin 0-16mm (or outside diameter of fin φ 38.1-φ77m); Pitch of fins 2.3-12mm; Length of finning tube 0.5~ 14m.
2: Single metal rolling finning tube: Pure aluminum 1060 or aluminum alloy 6063.
3: Double metal rolling finning tube: Tube-based protection from the outer layer of aluminum tubes, corrosion-resistant; Tube-based can be made from carbon steel pipe, in addition to, stainless steel tube and copper tube can also be used, as well as titanium alloy tube.
Fin Tube Reference

Type

Name

Bear Tube

Fins

Material

Diameter

Material

Specification

Fin
Pitch

Fin
Height

Fin
Thick

Extruded

Single Metal

Aluminum copper

8-51

Aluminum,
copper

1.6-10

<17

0.2-0.8

Combined Metal

Metal

Aluminum

0.2-0.8

Low Fin tube
T-Type find tube

Carbon steel, copper,
stainless steel

10-38

/

0.6-2

<1.6

to 0.3

Bamboo Tube
Corrugated tube

16-51

/

8-30

<2.5

/

Wound

L/KL/LL Type
Fin tube

Carbon steel, copper,
stainless steel, alloy

16-63

Aluminum,
copper

2.1-5

<17

to 0.4

Embedded

G-type fin tube

Carbon steel, copper

16-63

Aluminum

2.1-5

<17

to 0.4

U-Type

U-type tube

Carbon steel, copper,
stainless steel

16-38

/

/

/

/

High Frequency welding

Spiral fin tube

Carbon steel,
stainless steel, alloy

16-219

Carbon steel, stainless steel

3-25

5-30

0.8-3

H/HH type fin tune

25-63

8-30

<200

1.5-3.5

Studded fin tube

25-219

Carbon steel, stainless steel, alloy

8-30

5-35

5-20